Z BioVet
Probiotic Biosurfactant Cleaner
Specially formulated for the Animal Health Indusry
Effective, Safe, & Convenient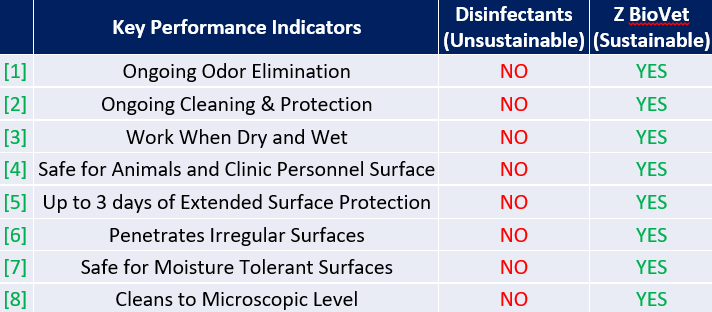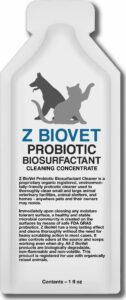 Convenient 1oz Packet of Z BioVet makes 32oz
Everyone knows that there are harmful bacteria (pathogens) and beneficial bacteria (probiotics). When you clean with chemical disinfectants, you are killing both types of bacteria.
 Is that what you really want to do?
Z BioVet eliminates bacterial pathogens AND leaves behind beneficial probiotics that continue to protect animal health facilities
EFFECTIVE:
Z BioVet simultaneously cleans down to the surface and then continues to protect at the microbial level for up to 72 hours after use [5 & 8]
Z BioVet solves the problem of unwanted pathogens through Competitive Exclusion – a well proven scientific approach [2]    
Pathogen transmission through physical contact, such as hands and feet (or paws) on contaminated surfaces, is a major problem [5]
Odors are eliminated as Z BioVet's probiotics displace pathogenic bacteria. [1] 
Pathogen transmission through physical contact, such as hands and feet (and paws) on contaminated surfaces, is a major problem. Cleaning surfaces with Z BioVet results in replacing pathogens with probiotics [5]
SAFE:
Z BioVet is safe to handle and it's pH neutral [4]
Z BioVet makes vet clinics cleaner and healthier for patients & staff naturally. It uses EPA "safer choice" chemistry and healthy FDA listed probiotics  [4]
Z BioVet is Hypoallergenic and Environmentally friendly [4]
Convenient:
Z BioVet is a revolutionary 'two in one' solution that Cleans & Protects in an easy, time effective way [2]
Z BioVet is easily adopted. Just replace existing cleaners with Z BioVet. AND, it's less expensive than most cleaners and disinfectants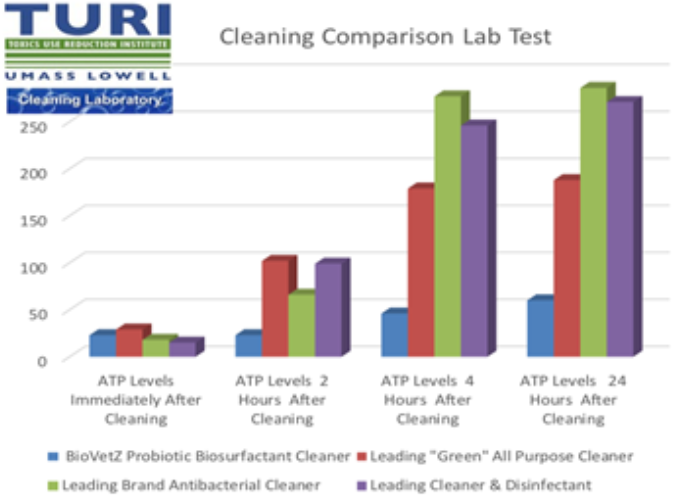 LASTING CLEANING & PROTECTION
Z BioVet was tested against leading antibacterial, 'green' and disinfectant cleaner products using ATP levels as the objective scientific criteria.
ATP levels below 30 represent highly effective cleaning, between 30 and 80 is acceptable, and above 80 is unacceptable.
Just 4 hours after cleaning, only Z BioVet maintained acceptable surface cleanliness.
Z BIOSCIENCE EFFICACY AGAINST PATHOGENS
For 21 months a cleaning and disinfectant protocol failed to control Staph, Salmonella, and Coliform pathogen
Changing to Z BioScience Probiotic Cleaner dramatically reduced problematic pathogenic bacteria.
The graph shows culture results from 100 locations in a hatchery sampled daily for 3 years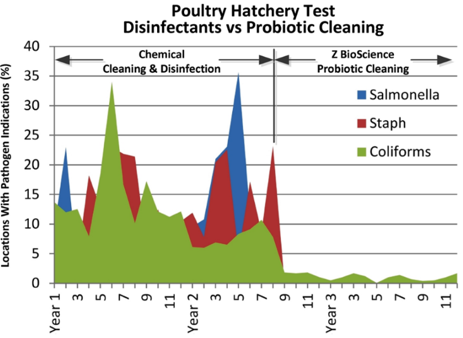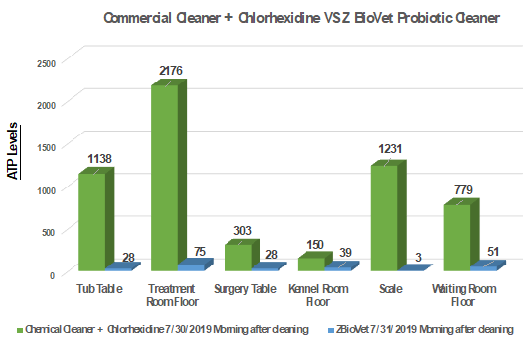 Z BioVet Outperforms Chemical Cleaner and Chlorhexidine
ATP testing demonstrates conclusively that Z BioVet Probiotic Biosurfactant Cleaner delivers a better, safer level of cleaning and safety in Vet Clinics
This test was conducted in an animal clinic that used a chemical cleaner and a chlorhexidine disinfectant. They made the switch to Z BioVet cleaner and have reduced their cleaning costs while achieving a much greater level of "clean"
Z BioVet KEEPS ON CLEANING
The ATP level immediately after cleaning this surface with Z BioVet was 25, (down from 191).  This surface was in constant use, yet the next ATP reading, taken 36 minutes later came in at 15.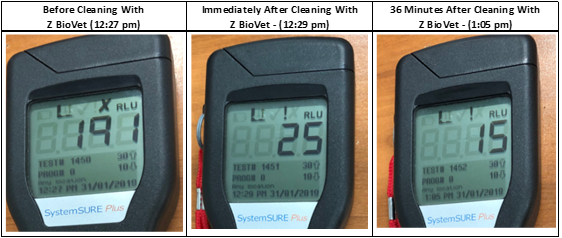 Open Hours
M-F: 8am - 7pm
Central Time